Virtual Conference "Lessons from the Global Financial Crisis in the Age of COVID-19"
Virtual Conference
Securing Financial Stability:
Lessons from the Global Financial Crisis

in the Age of COVID-19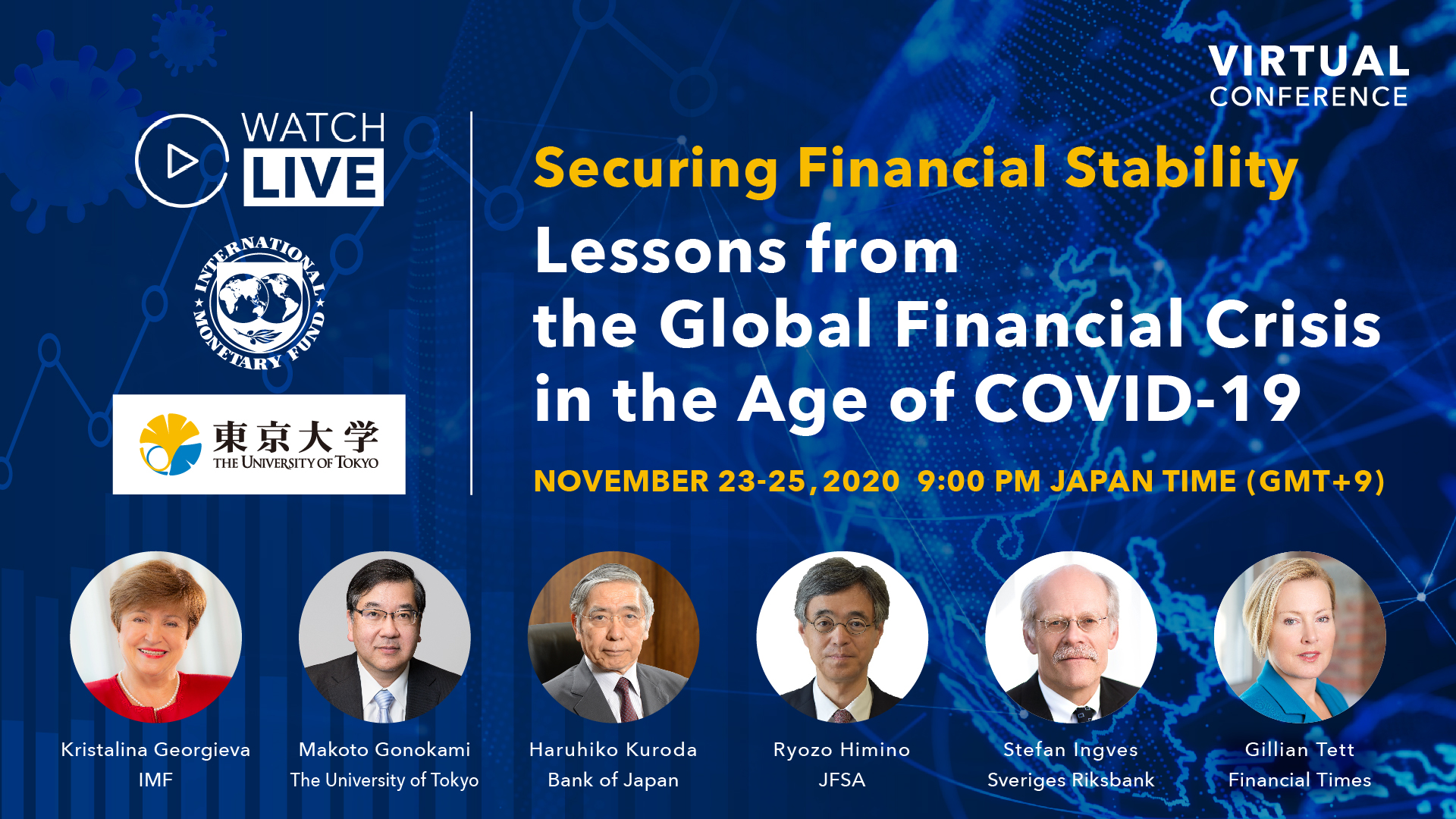 The world is facing an unprecedented crisis. Pre-existing vulnerabilities in financial systems are intensifying in many economies, particularly for non-financial corporates, non-bank financial institutions and sovereign debt. We must prepare for post-pandemic financial reforms to secure financial stability. The IMF and The University of Tokyo, will host the virtual conference "Lessons from the Global Financial Crisis in the Age of COVID-19" to bring together veteran and current policymakers and researchers from around the world to offer their insights on how best to manage financial risks during the current and future crises. Join a series of live discussions on crisis management during November 23-25 to learn from the past and prepare for the future.

Language
English with Japanese simultaneous interpretation

Ask questions
Question form has been closed. Thank you for your interest.

How to join
No registration required.The conference will be livestreamed on this website.


<VIDEOS>

Day1:





Day2:





Day3:
9:00-9:10 pm

Opening remarks:
Makoto Gonokami, President, The University of Tokyo

9:11-9:17 pm

Opening speech:
Kristalina Georgieva, Managing Director, International Monetary Fund (IMF)

9:20-10:50 pm

International crisis management during the GFC and lessons for the COVID-19 crisis

Moderator:
Gillian Tett,Chair Editorial Board and Editor-at-Large US, Financial Times

Panelists:
William Dudley, Senior Research Scholar, Griswold Center for Economic Policy Studies, Princeton University
Francesco Papadia, Senior Fellow of the Bruegel Institute
Marianne Nessen, Senior Advisor to the Executive Board, Sveriges Riksbank
Hiroshi Nakaso, Project Professor, The University of Tokyo

Issues for discussion
International collaboration is critical for successful management and prevention of financial crises. This session will explore broad challenges and lessons for policymakers through drawing on experiences gained during the GFC, assessing policy responses during the current crisis and considering the challenges that lie ahead.
Session 2: Tuesday, November 24 "International Cooperation; Risk Management"
9:00-9:10 pm

Opening remarks:
Haruhiko Kuroda, Governor, Bank of Japan

9:15-9:30 pm

Navigating the Pandemic: Asia's Multi-Speed Recovery
Jonathan D. Ostry, Acting Director, Asia and Pacific Department, IMF

9:35-10:20 pm

International efforts to bolster cooperation and manage financial stability in the era of COVID-19

Moderator:
Takehiko Nakao, Chairman, Mizuho Research Institute
Panelists:
Ceyla Pazarbasioglu, Director, Strategy Policy and Review Department, IMF
Masamichi Kono, Deputy Secretary-General, The Organisation for Economic Co-operation and Development (OECD)
Toshinori Doi, Director, ASEAN+3 Macroeconomic Research Office (AMRO)

Issues for discussion
Both global and regional cooperation are important to mitigate economic and financial risks during crises. This session will discuss how best to leverage such cooperation during the COVID-19 crisis to manage risks, including by drawing on lessons from the past.

10:25-11:10 pm

Adapting crisis tools to a changing financial landscape

Moderator:
Patricia Mosser, Professor, School of International and Public Affairs, Columbia University

Panelists:
Robin Brooks, Managing Director and Chief Economist, The Institute of International Finance (IIF)
Shunsuke Shirakawa, Vice Commissioner for Strategy Development and Management, Financial Services Agency, Japan (JFSA)
Kenichi Ueda, Associate Professor, The University of Tokyo

Issues for discussion
Financial and economic risk emanate from both within and from outside the traditional core financial sector. This session will explore structural change and innovation driven through Fintech and similar channels, and the implications of this change for broader financial stability and the design of crisis-management tools. The session will also highlight the importance of good governance and efficient mechanisms in capital markets to help manage financial risk.
Session 3: Wednesday, November 25 "Financial Regulation"
9:00-9:10 pm

Opening Speech:
Ryozo Himino, Commissioner, JFSA

9:15-9:25 pm

Sustaining Financial Health during the COVID-19 Pandemic and on the Road to Recovery
Tobias Adrian, Director, Monetary and Capital Markets, IMF

9:30-11:00 pm

Financial regulatory measures during the GFC and lessons and measures for the COVID-19 crisis

Moderator:
Yoshihiro Kawai, Visiting Professor, The University of Tokyo

Panelists:
Stefan Ingves, Governor, Sveriges Riksbank (by video)
Stijn Claessens, Head of Financial Stability Policy Department, Bank for International Settlements (BIS)
Nobuyuki Hirano, Chairman, Member of the Board of Directors, Mitsubishi UFJ Financial Group, Inc.
Takatoshi Ito, Professor, School of International and Public Affairs, Columbia University

Financial regulation is a key component of managing financial risk and establishing good governance. This session will cover financial regulatory lessons from the GFC and how they can be applied to help manage financial risks. Specific issues include regulatory policies and their impact, resolution frameworks for the banking sector, solvency and liquidity management, and lessons from the GFC already applied during the current crisis.

11:00-11:10 pm

Closing remarks on public sessions:
Tsutomu Watanabe, Dean, Graduate School of Economics, The University of Tokyo
*This is a Centennial Anniversary Event of Faculty of Economics, The University of Tokyo.

Contact

Soumu (General Affairs Section), Graduate School of Economics
shomu.e@gs.mail.u-tokyo.ac.jp